About Debbie Ford
Byline - Print:
Debbie Ford, New York Times #1 bestselling author, internationally acclaimed workshop leader, and trainer, is committed to the evolution of human consciousness. Visit her interactive website at www.debbieford.com.
Broadcast BIO:
With us today is Debbie Ford, New York Times #1 bestselling author, internationally acclaimed workshop leader, and trainer, who is committed to the evolution of human consciousness. Best known for her groundbreaking work known as the Shadow Process, Debbie works with over 10,000 people annually through her workshops and tele-seminars. She has been featured on Oprah, Good Morning America, and recently as the expert coach on ABC's Ex-Wives' Club. Debbie hosts a weekly radio program on HayHouse Radio and recently launched an interactive website -- www.debbieford.com -- to make her transformative teachings even more accessible. Welcome, Debbie Ford.
Full Bio
Throughout her life, Debbie Ford has been deeply committed to the evolution of consciousness and the healing and transformation of the human heart. In her speaking, writing, and teaching, she gracefully travels between the worlds - from the mundane to the sublime, from the practical to the profound, and from the light to the dark -- and back again.
Woven into Debbie's work is a masterful and moving ability to support people to understand their wounded ego, excavate the gifts from their pain, make peace with their past, and reach for the highest expression of their humanity. She shines a light on the pathway to lasting self-acceptance and true self-love.
Debbie Ford, creator of The Shadow Process, is an internationally acclaimed expert in the field of personal transformation. As a pioneering force in incorporating the study and integration of the shadow into modern psychological and spiritual practices, Debbie's work is based on the core belief that outer transformation occurs only when we experience an internal shift in perception.
A New York Times #1 best-selling author, Debbie's books and programs have sold more than 1,000,000 copies and have been translated into thirty-two languages. Beginning with the publication of The Dark Side of the Light Chasers, her five books also include Spiritual Divorce, The Secret of the Shadow, The Right Questions, and her most recent title, The Best Year of Your Life: Dream It, Plan It, Live It. Soon to be featured as the divorce expert and life coach on ABC's Ex-Wives Club, Debbie has also been a repeat guest on Oprah, Good Morning America, and other national TV and radio programs and is now the host of her own popular call-in radio program, Live with Debbie Ford, available weekly on HayHouseRadio.com.
Debbie founded the Ford Institute for Integrative Coaching at John F. Kennedy University, a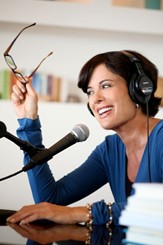 leader in emotional education. In a groundbreaking collaboration with JFK University, Debbie's professional coaching programs are offered through a global tele-class platform that is transforming the face of distance learning. Since its inception in 2000, the Ford Institute has trained and certified over 500 coaches worldwide.
Debbie earned a degree in psychology with an emphasis in consciousness studies from JFK University, and in 2001 received the Alumni of the Year Award for her outstanding contribution in the fields of psychology and spirituality. In 2003 she was awarded an honorary Doctorate from Emerson University, and in 2004 she received an honorary Doctorate of Humane Letters from the John F. Kennedy University Board of Regents.
Debbie has co-taught with Deepak Chopra, M.D., and David Simon, M.D., of the Chopra Center for Wellbeing, Neale Donald Walsch, Jeremiah Abrams, Ph.D., and other acclaimed teachers, and she is beloved for her heart-penetrating wisdom, her compassionate humor, and her remarkable gift for inspiring people to reach for their highest potential. Many of the great leaders and thinkers of our time tapped Debbie for her profound coaching and guidance. In addition to her work training coaches, Debbie gives lectures and workshops around the country to an estimated 10,000 people each year, inspiring them to reclaim the totality of their humanity. Through her interactive website, www.debbieford.com, Debbie is expanding her work to reach thousands more.