Embrace the dark side. . .
reclaim your power
As seen on Oprah, Good Morning America,
and now ABC's Ex-Wives' Club
Release on the Premiere of Ex-Wives' Club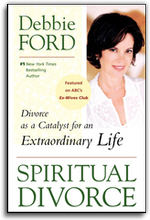 Pop psychology and self-help systems today tout the benefits of being positive. Affirmations, success mantras, scores of teachers telling us to look at what we want and not at what we don't want.
But Debbie Ford disagrees.
"If we won't accept our pain, shame, guilt, and anger, it doesn't matter how many hours of positive affirmations we do. We remain stuck, our power frozen inside."
Debbie Ford, New York Times #1 best-selling author, internationally acclaimed workshop leader, and founder of the Ford Institute for Integrative Coaching at JFK University, interacts with over 10,000 people per year with her Shadow Process and Spiritual Divorce work, helping participants unleash this personal power by embracing the "dark" side to reclaim their wholeness.
"The demand for this work is greater than I can handle in person. To make these teachings accessible to all who want them – and still maintain the personal touch that this deep, penetrating work requires - we developed a virtual community for personal transformation at www.debbieford.com, bringing tools for healing and transformation directly to your PC."
"As each individual embarks on this journey to make peace with the Shadow -- experiencing self-love, expansion of his or her potential, and the achievement of cherished dreams and goals -- the consciousness of the entire globe evolves. And that is the ultimate goal."
View and download Debbie's One Pager
This online press kit is designed to meet the media's needs. You can also visit Debbie's public Web site: www.debbieford.com. If you have any requests or questions, please contact Michelle Tennant at 828-749-3200, michelle@publicityresults.com